Our Mission
Our mission is to provide safe and affordable apartments for folks who are 62 and older but have limited income. While protecting individual privacy, resident leaders, staff and directors strive to foster a caring community experience. This includes resident meals served five times each week.
Garden Terrace apartments are ideally located. Confluence Health medical services, banking and supermarket shopping are less than one block away. Walk a few more blocks to Riverfront Park, with its paved walking and cycling trail. Free trolley service links tenants to downtown businesses, Pybus Public Market, concerts, theater and sports events. Why not call some friends to enjoy nearby fishing, mountain trails and winter ski slopes?
Something always seems to be happening among residents. Meet new friends during exercise or arts and crafts classes. Movie nights, potlucks, fundraisers and scheduled outings are planned by the Resident Council. Spontaneously, other groups form for custom activities, book discussions and conversation. We're especially proud of residents who donate time and service to other community organizations and causes.
TO PROVIDE FINANCIALLY VULNERABLE SENIORS A SAFE AND SECURE
COMMUNITY WHERE THEY CAN THRIVE.
---
Our History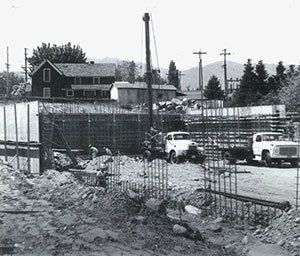 Garden Terrace was the vision of the members of the Wenatchee Immanuel Baptist Church. Late in 1969, they began construction of the first of what would eventually become two 6 story "high-rises" of apartments for independent seniors. The first building Garden Terrace, "A Good Place to Live," opened for residents in 1971 and the second building Garden Terrace West opened in 1981, making 146 apartments available to low-income seniors 62 years and older.
A few years into the project the local Immanuel Baptist Church merged with the Wenatchee Church of the Brethren to create the Wenatchee Brethren Baptist Church United. At that time the Garden Terrace board of directors became Wenatchee Brethren Baptist Homes, Inc. a 501(c)(3) non-profit HUD subsidized housing project.
JC "Chip" Marshall was the first administrator of Garden Terrace, followed by Dick Allstot, Clyde Woods, Otha Holcomb, Ross Heminger, Robert "Jack" Kennedy (15 yrs.), Gene Anderson, Leanne Ford (16 yrs.), Terry Adams (6 yrs.), John Braun, and current Executive Director Ken Neher. Garden Terrace West was constructed during Jack Kennedy's service as administrator.
Along the way, Garden Terrace/Garden Terrace West grew from being "A Good Place to Live" into "A Caring Senior Community," which is still an excellent moniker. It was, and is, one of a handful of independent senior living facilities that serves a community meal daily. This was an intentional choice by the board of directors to ensure seniors got out of their rooms and socialized with others. The intent was to help create community and to get a daily "roll-call" of the residents while checking on their well-being.
In 2013 the entire facility was re-financed and some major renovations were completed. The entire building was equipped with a fire sprinklers and a new alarm and monitoring system. The apartments in the original Garden Terrace were updated and new heating and air conditioning units were installed. New mailboxes for each apartment were installed in the lobby and new hot water tanks and circulating pumps were installed in the basement.
Over the years the ties to the church have weakened somewhat, so in 2019 the Wenatchee Brethren Baptist Homes corporation was renamed Garden Terrace Senior Living. This was done at the request of the Board of Directors to better illustrate the closer relationship that Garden Terrace is developing with the entire community. It is hoped that people now understand that these low-income senior apartments are an important community resource and worthy of that recognition and support.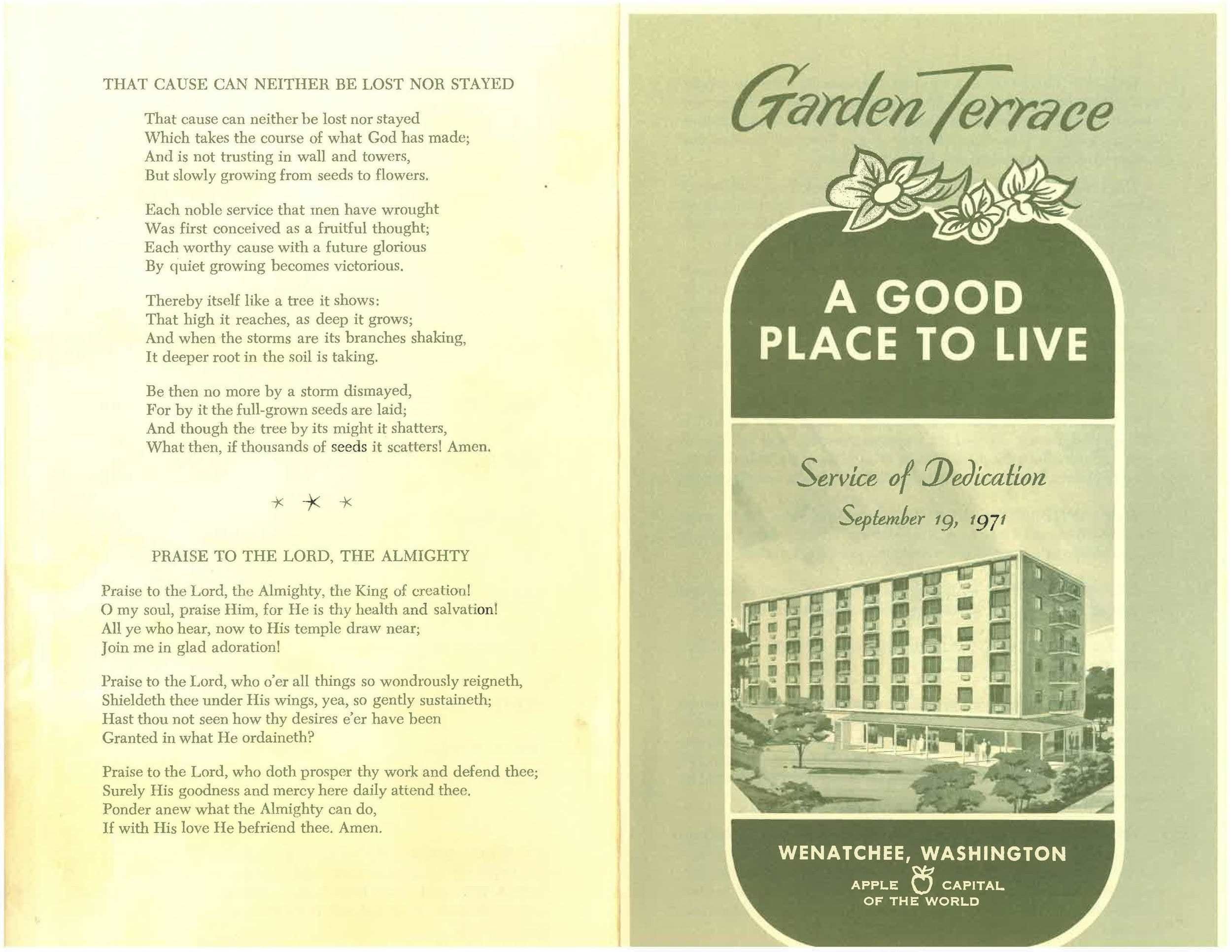 Garden Terrace - A Good Place to Live - then and now!